Quarry Surveys, Plant surveys, Shed surveys, Silo Surveys all undertaken using the very latest surveying equipment.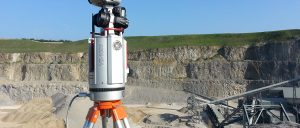 Quarry Survey using Long Range Laser Scanner
We offer the most up to date Trimble GPS, Timble S6 Vision Total Station, Long Range Laser Scanners and Specialist Mapping Drones ensuring the best results by the safest methods.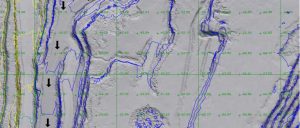 Quarry Survey out put in CAD and LSS
Surveys of quarries can be carried out part of slope stability programs or rock fall hazard assessment to provide more accurate, up-to-date information on which to base the re-design of the faces and the benching system to the quarry walls.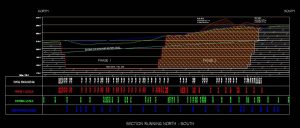 Quarry Design base on accurate surveys.
The survey can be extended to include the whole of the quarry.
Health and Safety is paramount in a quarry, companies enforcing a strict health and safety regime is a natural occurrence to us. The areas requiring an accurate survey may be made up of loose material caused by instability, excavation spillage from higher levels and solid faces with quite dramatic discontinuity features resulting in a high potential for slope instability and rock falls.
Access for conventional surveying using rock climbing or rope access techniques are often considered unsafe.
Robotic total stations are sometimes unable to provide the density of data and, as with other types of scanners, were unable to measure over the distance required. With the VZ-1000 range of 1.4km, we are able to undertake the survey from safe vantage points, from safe areas within and outside the quarry.
Surveys can be completed over as little as 2 days using both tripod and vehicle mounted scanners.
The general resolution is usually grid of levels approximately 200mm x 200mm, with increased resolution to 20mm x 20mm in areas of specific interest.
The data can be processed to remove mobile plant etc. A digital terrain model of the whole site can be produced, triangulated, textured and exported to AutoCAD along with contours at intervals and a grid of levels.
Plans can be drawn to clearly show crest and toe of faces, haul routes and ramps, stockpiles, edge protection and benches. It can also be shown where benches are becoming loaded with loose spoil and therefore unable to satisfy their primary function, thus enabling the Quarry Manager to make an informed decision regarding operations within those areas.
The high-resolution data can be used to produce 3-dimensional virtual rock face for use by the Geotechnical Engineers to assess and monitor slope stability and quarry face design. The virtual rock surfaces provide a more accurate, precise and reliable basis for discontinuity identification. This provides the Geotechnical Engineer with the quickest, safest and most complete method of rock face analysis.